Campsites in Charente-Maritime by the sea
Are you looking for a family destination for a sun and beach vacation? Why not opt for a campsite in Charente-Maritime by the sea?
This family destination will be the ideal place to bask on the shores of the Atlantic Ocean while enjoying the green natural surroundings. Your days will be filled with a wide range of activities and places of interest to discover. What's more, hosting solutions are wide and varied.
To make your stay a success, the Auguste Campings group offers two 3-star campsites by the sea, providing all the comfort you need for a family vacation.
A campsite in Charente-Maritime by the sea for unforgettable vacations
Located in the Poitou-Charentes region, the department of Charente-Maritime is home to a rich and exciting maritime heritage. With its 4 islands, its 460 km of shores bordered by the Atlantic Ocean and its 150 km of golden sandy beaches, this tourist region attracts thousands of beach lovers every year.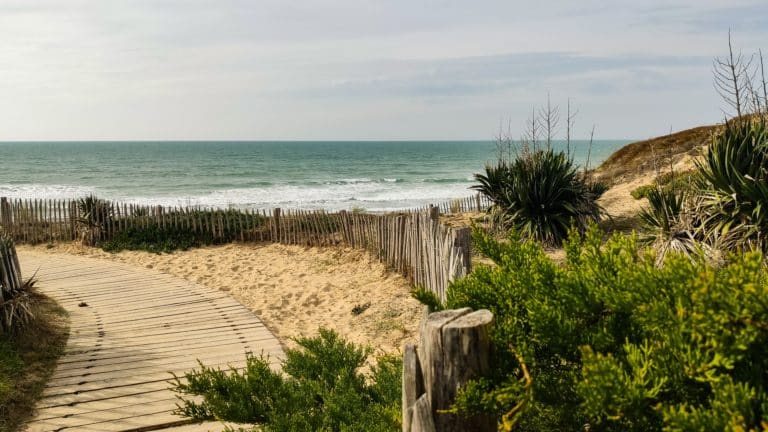 In addition to offering a most sumptuous landscape, the Charente-Maritime has a multitude of reliefs to discover for adventure lovers. Between the long sandbanks and cliffs, the peninsulas and marshy areas, the bays and "exotic" coves, this magnificent region has something for everyone.
In addition to the richness of its landscape, the diversity of activities is a significant asset, especially during a family camping in Charente-Maritime by the sea. For a quiet vacation, you will have the opportunity to relax under the sun or contemplate exceptional views. For the more adventurous, the ideal would be to discover the heritage of the region or even better, try new water sports. Whatever your preferences, Les Campings Auguste will make your stay unforgettable.
Our 3 star campsites in Charente-Maritime
By opting for our campsite in Charente-Maritime by the sea near Royan, you can stay in a setting close to nature, only a few minutes from the beach. The accommodations offered by Les Campings Auguste are located in a wooded environment, perfect for lovers of the great outdoors.
According to your needs, you can choose between two domains located near the sea in Charente-Maritime:
The Camping des Chênes Verts, only 800 m from the Nonnes beach, and its 2 hectares of trees
Camping du Lac de Saujon, near Royan and its beaches, to discover unforgettable sights
Our 3 star campsites in Charente-Maritime are a perfect family destination. Moreover, we offer a multitude of infrastructures that will entertain children and adults:
Swimming pool open all year round with various activities: swimming lessons, aquabike or aquazumba
Playgrounds for the youngest: paddling pool, slides and swings, inflatable structure…
Playgrounds for the older ones: petanque courts, ping-pong, tennis court…
Various leisure activities: theme evenings, fishing, etc.
Pedestrian and nautical activities: bike rides, water skiing, jet-ski, others to discover
To top it all off, our 3-star campsites in Charente-Maritime offer on-site catering. In addition to the snack bar, a restaurant offers various dishes and drinks, to be tasted on the spot or to take away, according to your desires.
Camping des Chênes Verts to discover the beaches of Charente-Maritime
Located in Meschers-sur-Gironde, this family campsite by the sea benefits from a preserved environment bordering the coast of Royanne. Ideal destination to satisfy the whole family, Camping des Chênes Verts is located less than 15 minutes from the beach of Les Nonnes, a place known for its cliffs, its lush nature and especially its lively seaside resort.
If the proximity of the sea remains a real asset, the Camping des Chênes Verts presents other qualities making it perfectly adapted for a family stay. Spreading over 2 hectares planted with holm oaks, white oaks and maritime pines, this 3 star campsite will allow you to spend your vacations in the middle of nature, for a stay shared between the land and the ocean.
To discover the region in all its splendor, consider a hike or bike ride. Between the cruises on the Gironde, the walks through the customs path or the visit of La Rochelle and its old port, you will not have time to be bored.
As far as accommodation is concerned, our 3 star campsite has all the necessary amenities for your family vacation. The offers are varied:
Family or high-end mobile home: 1, 2 or 3 bedrooms
Bungalow with all comfort
Spacious pitches with electrical connections, sanitary facilities and paved paths
In order to preserve the privacy of your trip, each site and accommodation has a green space surrounded by hedges.
The Camping du Lac de Saujon and its sights to discover
Benefiting from a direct access to the Lake of La Lande and its multiple centers of interest, this 3 star campsite located in Charente-Maritime welcomes you all year long for a discovery and adventure stay. Built around a privileged and green environment on the shores of the lake, the Camping du Lac de Saujon offers a wide range of activities for young and old.
You will have the opportunity to relax by the water or to camp with the whole family, close to nature. If fishing is a very popular leisure activity, you can also try out new experiences with water sports on the lake.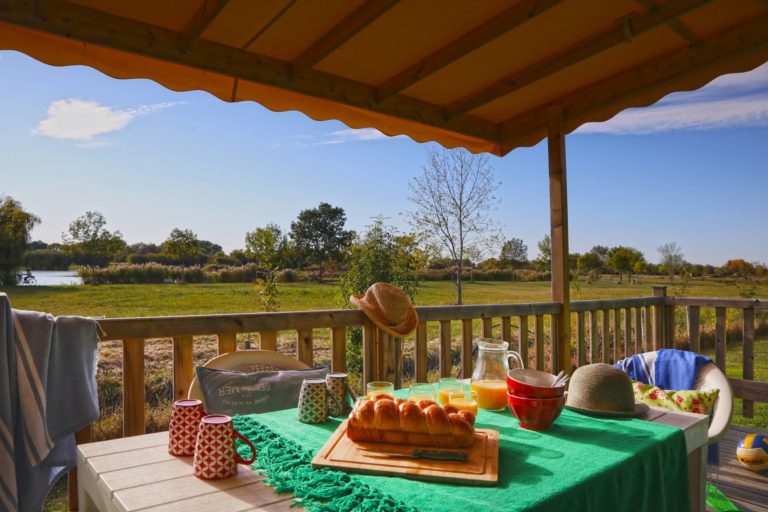 At the same time, the area is located in the heart of a spa. If you wish to enjoy a deep relaxation session, Espace Philae offers thermal cures and wellness treatments that will allow you to cut the link with daily tensions. In any case, the activities and services available will fully satisfy you:
Water activities: tele-ski, water games, swimming pool
Various leisure activities: mini-golf, basketball court…
Wellness area: jacuzzi, sauna, massages
Relaxation and sunbathing around the lake
The Camping du Lac de Saujon also offers accommodation solutions for everyone between mobile homes, bungalows, caravan sites and unusual accommodation. Depending on your needs, the fully equipped accommodations can accommodate from 2 to 6 people.
You want to book right away your accommodation for a campsite in Charente-Maritime by the sea? Contact us directly or fill out the dedicated form on the website.